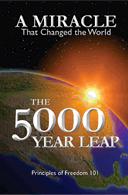 Discover the 28 fundamental beliefs of the Founding Fathers which they said must be understood and perpetuated by every people who desired peace, prosperity, and freedom.
These beliefs have made possible more progress in 200 years than was made previously in over 5,000 years.
The following is a brief overview of the principles found in The Five Thousand Year Leap, and one chapter is devotes to each of these 28 principles.
Also be sure to check out the