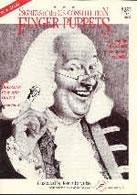 This fun award-winning book is perfect to help children gain a greater understanding and appreciation for the Founders' of our Country. It contains a brief history of the
United States
and tells about each of the Signers of the Constitution.
Teach your children about the Signers of the Constitution and the Constitutional Convention by using one of the following activities:
Have a classroom Convention with each student acting the part of a signer.

Write a skit of the Constitutional Convention and then present the skit to the school.

Chose several of the signers. Prepare and give a speech containing their beliefs, and quotes.

Make a display of all 39 signers at home, in the classroom, or in the school building.

Have a "Signers Pursuit" game, with questions and trivia about the Signers and events surrounding the Constitutional Convention.

Use the puppets for "Recognize the Signers" games and role playing.

Or create your own activity using the Finger Puppets.