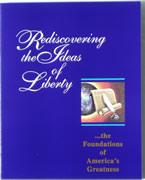 Price $15.00
A celebration and rediscovery of the origin and meaning of the
United States
Constitution.
Where the profound ideas in our Constitution came from?

What made our constitutional government different from all preceding governments?

Whether the Supreme Court has authority to change the Constitution?

What "unalienable rights" really are and where they came from?

About the real meaning of the phrase "a living Constitution"?

What caliber of people were required to create such a citadel of liberty for the entire world?

What will it take to hold onto our precious heritage of liberty?
Find the answers to these and many other questions as you Rediscover the Ideas of Liberty.